Introduction
The real estate accounting module is a key part of the NETiKA RI solution. It collects all of the movements in the management modules (rental management, technical management, asset management) and provides a complete accounting solution:
Ancillary purchase and sales accounting
General accounting through to the company tax return
Fully configurable analytical accounting..
The module is not required to use NETiKA RI. It can be deactivated or activated in part or in full, depending on needs. This enables the implementation of all of the integration solutions required between NETiKA RI and the client's IS, for example:
NETiKA RI management solution, interfaced with the ancillary and general accounting of the client's IS.
NETiKA RI management + ancillary accounting, interfaced with the general accounting of the client's IS.
Complete, autonomous NETiKA RI management + ancillary and general accounting solution: for example, for asset administrators who manage the real estate accounting of their principals.
Main characteristics
NETiKA RI selected the Compiere ERP package as its ancillary, general and analytical accounting tool. Compiere has been one of the leaders in the international market for 15 years, present on all five continents, and represented in Europe by Audaxis, a NETiKA Partner.
The package is fully integrated with NETiKA RI management modules: links to and from Compiere screens to and from RI, totally transparent exchange flows, mirror-image MMI, no double login, etc.
The main characteristics of the accounting module are:
Full web, a basic browser is sufficient
International solution (accounting and taxes)
Multilanguage
Multi-company
Multiple charts of accounts
Multi-currency
Intercompany management
Multiple accounting standards (FRGAAP, IFRS, etc.)
Multi-currency consolidation
Partial payments and reconciliation
Reminder and dispute management
Bi-directional banking interfaces
Highly configurable (favourite options, retractable sections, accounting schemes, applicable VAT, etc.)
Integrated decision-making (Jaspersoft).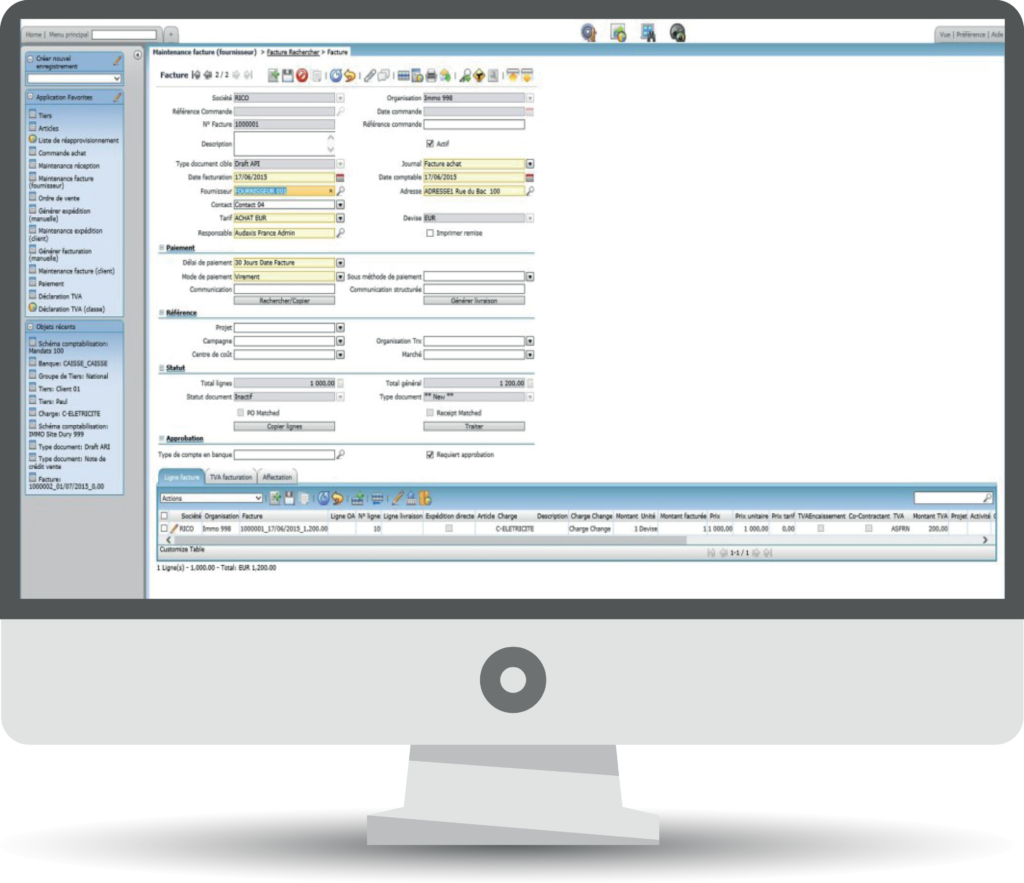 Standard reports
General ledger and client/supplier account balances, Aged balances, Balance sheets and Income statements, Detailed analyses, VAT reports, etc.
Document printing
All documents produced (payment notices/invoices, supporting documents, reminder letters, notice letters, etc.) can be automatically generated by the reporting tool using configurable templates.
Electronic publishing flow
Alternatively, the accounting tool can generate an electronic publishing flow for a service provider, in any configurable format.
Client IS interfaces
All interfaces with the IS client are possible. SAP Experience, Oracle, PeopleSoft, JD Edwards, and more: contracts, orders, receipts, invoices, payments/collections, cut-offs etc