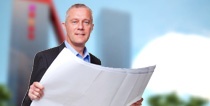 NETiKA both develops and integrates its solutions. Comprising two separate yet interdependent teams, the core application is enriched with feedback from the integration teams who work closely with customers and are familiar with the problems they encounter. In this way, each team – with its particular technical and functional skills – enriches the product.
DEVELOPMENT
The development team is responsible for developing and maintaining the "core" application. As such, it is involved in the maintenance and technical development of the solution (compliance with browsers, OS, technologies etc.) as well as the functional developments of the core of the product (developing new modules, adapting existing modules). The team is headed by a Product Manager. Functional R&D is undertaken by the creative directory.
The development team's work is organised according to the Agile Scrum method, with 3-week sprints.
INTEGRATION
With the closest proximity to customers, the integration team customises the software package in line with the customer's preferences. The package toolbox allows the integration team to very extensively customise the software package (configuration, translation, creation of specific tabs, reporting etc.) The integration team has all the skills necessary to provide you with first-rate support in your project: steering, overall and detailed design, configuration and development, approval and training, post-production support, etc.
Listening carefully to what customers want, the integration team forms the natural link between the customer and the developer whenever there is a development that requires changes to be made to the core of the product.
Depending on your needs and the size of your projects, the integration team adapts its methods to optimise project turnaround times while guaranteeing that the aims are achieved. NETiKA's services range from the rollout of a pre-configured, standardised solution using the basic modules, which can be achieved within just a few weeks, to projects involving the rollout of numerous modules with customisation, specific requirements and interfaces..
If you would like more information,contact us