NETiKA RI 'Standard Edition'
NETiKA RISE: a 'turnkey' solution that can be used immediately
NETiKA offers NETiKA RI 'Standard Edition' (RISE), a ready-to-use, pre-configured application so you can get started quickly with maximum efficiency. This solution meets the vast majority of needs, by enabling simple referencing, simplified input screens and the automatic calculation of indicators to steer the increasing strength of your teams.
NETiKA RISE is not a separate product, but a subset of the NETiKA RI flagship product. Based on NETiKA RISE, you can gradually develop the modules of your software to build a solution which best meets your needs and expectations.
There are two versions of NETiKA RISE:  RISE Rental Management and RISE Technical Management depending on your initial real estate strategy.
NETiKA RISE is available for hire in ASP or SAAS mode, which can be accessed using a simple browser. You do not have to make any investment in IT Equipment.
It's never been so easy to acquire a powerful real estate management tool!
Main characteristics of NETiKA RISE
A ready-to-use solution, with pre-configured tables that can be easily customised
Very few workshops needed before start-up
Sixteen pre-wired profiles for the close management of user rights
A hierarchical, configurable organisational structure with adapted data visibility
Geopositioning of your assets on Google Maps if you have ad hoc licences.
NETiKA RISE has standard entry SAS for data relating to assets, third parties and leases. You simply create Excel files in the format offered by NETiKA.
Supplied with a complete user's guide, basic training and launch support, including specialist training for the administration module.
Hosted on NETiKA servers (saas mode)
Corrective maintenance included
Can be scaled by gradually activating multiple additional modules, at your own pace
Also available to help you implement the solution: 5 or 10 day packages to help you structure your data, create your customised reports, etc.
Two versions
NETiKA RISE – Rental management enables you to quickly set up full management of your leases taken, leases given and sub-lets, in all the requisite detail. The amounts are updated each year in line with indexing rules, vacancies are managed and critical dates are monitored.
With NETiKA RISE – Technical management, you can quickly build your works budgets, draw up contracts and monitor the works.
You are never limited: pre-configured options are available to suit your needs and your real estate strategy.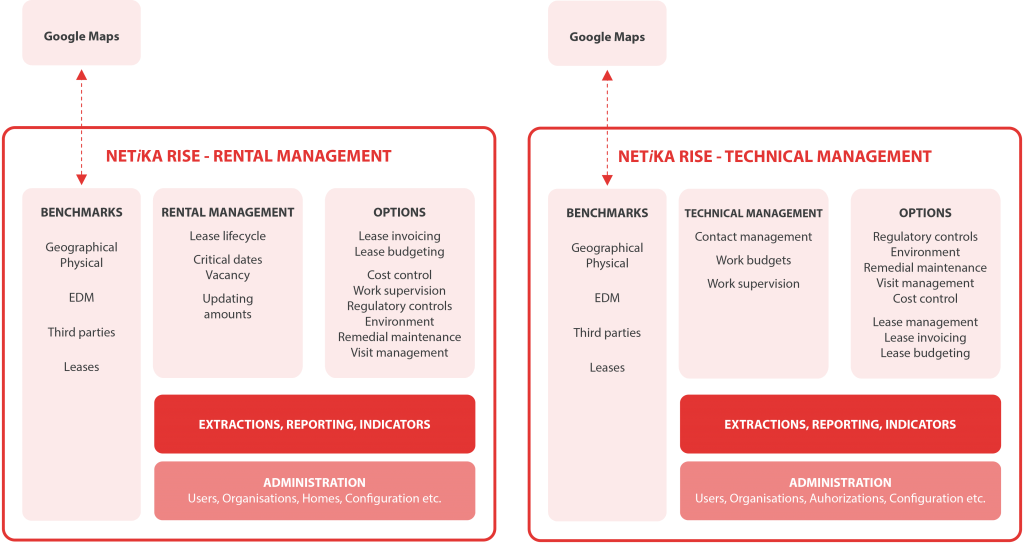 Ergonomic solution for quickly taking charge
Homepage with recents, favourites, alerts (to do list) and key indicators
Easy navigation using hyperlinks
Multi-criteria research and memorisation of personal searches
Input wizard (asset, third party, lease)
Integration of EDM for all properties
Data entry SAS with online corrections without re-submitting forms
Sophisticated authorisations (data partitioning, functional segmentation)
Extractor/reporting tool available for the end user
Archiving/de-archiving on demand
Contact us to find out more and request a demo.